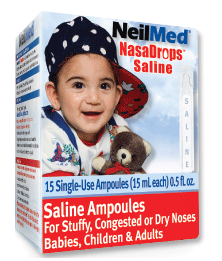 I like FREE after rebate items…especially when you can submit for the rebate up to 6 times per household! Collin over at Hip2Save called NeilMed directly and spoke with a representative who confirmed that you can submit the rebate 6 times per household!
Through July 15th, purchase NeilMed NasaDrops 15 single use Ampoules at CVS for $10.99. This is the suggested retail price, so you may find it priced slightly lower/higher. Once you purchase these, you can submit for a full rebate! This means you'll get all your money back! You will need to complete and send the rebate form along with the original UPC barcode and a copy of your receipt to:
NeilMed Pharmaceuticals Inc.
Attn: P300
601 Aviation Blvd.
Santa Rosa, CA 95403
This rebate is only valid for products purchased at CVS from June 10th-July 15th. The rebate must be submitted by July 31st.
Many CVS locations do not have this product in stock or do not carry it. If this is the case with the CVS near you, you can ask the pharmacist or store manager to special order this product for you. This should not be any additional cost for you as the product is shipped directly to CVS. If your store refuses to special order the item(s), you can contact NeilMed directly at 707-525-3784 and they will arrange special delivery of the product to your local CVS pharmacy.
For additional questions about this rebate offer, you can call NeilMed directly at 707-525-3784 or email [email protected].
Thanks, Hip2Save!