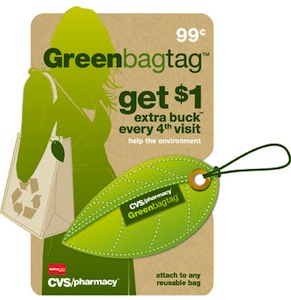 Have you heard of the CVS GreenBagTag program? If not, it costs $0.99 and is located near the register. It's designed to be attached to a reusable shopping bag. Every time you visit CVS and decline a plastic bag, your GreenBagTag will be scanned. After you use it 4 times, you'll earn a $1 ECB!
You can use any re-usable shopping bag, re-use a plastic bag from a previous purchase, or simply carry out your items. Any time you decline a one-time use plastic bag, you will receive a GreenBagTag credit.
This is a great way to earn a few extra ECBs and help the environment at the same time!
You must have your ExtraCare card and your GreenBagTag with you at time of purchase to receive credit.
Thanks, Katherine!