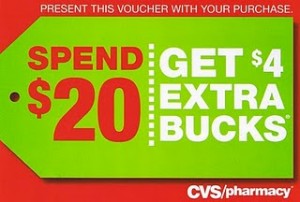 CVS has a new holiday booklet available in-store, dated 11/1-12/25/2010. On the cover, it says 'Earn over $50 Extra Bucks with Card. 100s of Gifts under $10.' The best coupon inside the booklet is valid for $4 in FREE Extra Care Bucks when you spend $20 or more, valid through 11/28!
Other Offers:
$10 ECB wyb CVS Sonic Toothbrush (Limit 2)
$3 ECB wyb CVS Sonic Replacement Head Brushes (3 pack or 5 pack; Limit 2)
$2 ECB wyb 2 Axe Items (Limit 3)
$2 ECB wyb Axe Gift Set (Limit 3)
$2 ECB wyb Clairol Natural Instincts Color Creme, Clairol Root Touch Up or Perfect 10 Nice 'N Easy
$2 ECB wyb 2 Nexus Salon Hair Care (trial size assortment; Limit 4)
$5 ECB wyb Regenetresses Thinning Hair Intensive Treatment System (Limit 2)
$2 ECB wyb Bioluxe Professional Collection Color Protect Shampoo or Conditioner, Hydrating Shampoo or Conditioner and Shaping or Extra Shaping Hairspray (Limit 3)
$2 ECB wyb Salon Grafix Invisible Dry Spray Shampoo (Limit 3)
$5 ECB wyb $10 in Tresemme Freshstart Waterless Foam Shampoo, Freshstart Refreshing Mist or Naturals Radiant Volume Shampoo or Conditioner Spend (Limit 3)
$5 ECB wyb 2 L'Oreal Paris Elnett Hairspray or EverStrong Hydrate Shampoo or Conditioner (Limit 1)
$2 ECB wyb Pantene Styling (Limit 2)
Thanks, Hip2Save!