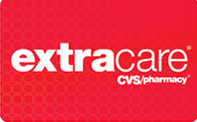 Sign up for the CVS Advisor Panel and you'll be asked to participate in online surveys about CVS products and services throughout the year. If you choose to participate in their surveys, they will thank you for your time by providing you with a self-printable CVS ExtraBucks coupon immediately after completing the survey!
A CVS survey was emailed to some members of the Advisor Panel this morning. Upon completion of the survey, the they each received $15 ECB!
Here's what the email said…
CVS is conducting a brief survey about shopping for household products and we are asking a small group of our ExtraCare customers to share their opinions with us by taking this online survey.

To thank respondents who qualify and complete this survey, you will be able to print a coupon for $10 in Extra Bucks* immediately following the survey. In the event that you do not qualify for the survey after answering the first few questions you will be able to print a coupon for $2 in Extra Bucks* immediately following the study, as thanks for your willingness to participate…The study will take approximately 15 minutes to complete online.
If you are currently a member of the CVS ExtraCare Rewards program, check your spam folder and you may find this survey waiting. Let us know if you get a $15 ECB also!
Thanks, Hip2Save!