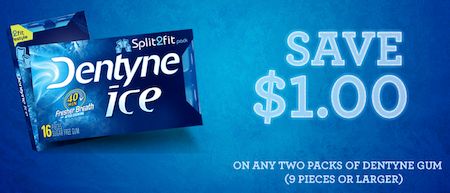 $1/2 Dentyne Gum Coupon
Here's a rare gum coupon! You can currently print a $1/2 Dentyne Gum coupon from the SmartSource website.
These are on sale this week at Walgreens for $0.99, plus you'll get 100 Balance Rewards points when you buy one. Use the coupon and you'll pay just $0.39 per pack after coupon and points!
Dentyne Gum, 9-16 oz – $0.99
Buy 1, Get 100 Balance Rewards Points
$1/2 Dentyne Gum coupon
Final Price: $0.39 each