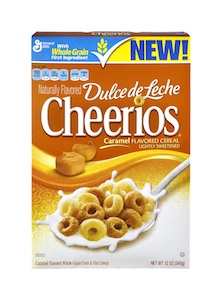 Next time you head out to the Dollar Tree to get some coupon deals, make sure you bring this $1/2 Boxes of Cheerios coupon with you! Some are finding the Dulce de Leche Cheerios in their stores for $1, making them $0.50 per box after coupons.
Remember, you can only use 2 printable coupons per transaction. If you have more than 2, make your first purchase and then get back in line to do your next transaction.
Dulce de Leche Cheerios, $1
$1/2 Boxes of Cheerios
Final cost: $0.50 each
You may want to bring a copy of the Dollar Tree coupon policy with you in case any issues arise.