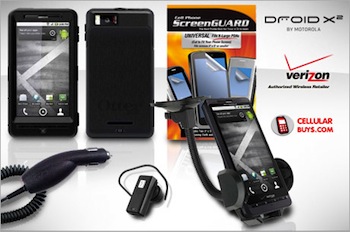 Wow! Check out this great deal on the Droid X2! Currently, Eversave is offering the Droid X2 on Verizon plus tons of accessories for just $20. If you're new to Eversave, you can get a $5 new member credit, which would make this only $15!
The total value of this Save is $209.99. If you have the new member credit, that means you're saving 93%!
Included in This Save:
Droid X2 for Verizon
Car charger
Window mount
Screen protector
Bluetooth headset
OtterBox impact case
May buy up to 5 Saves. Save valid with eligible new Verizon Wireless contracts, eligible upgrades, and added lines to existing Verizon Wireless accounts. Additional charges for activation fees, billing fees, or for service add-ons/upgrades may apply. Free shipping is included. Promotional value expires on Apr 15, 2012.