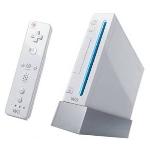 Dyscern.com has refurbished Wiis for $154.99 and FREE shipping, or you can get a new one for only $179.99! That's probably the best price you will find on a Wii!
Included:
Nintendo Wii
1 Wii Remote Control
1 Wii Nunchuk
Wii Sports
Sensor Bar
Power Cord
AV Cable
Stand
Thanks, SwagGrabber!