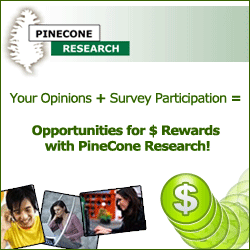 Surveys sites offer a great way to earn a little extra pocket cash, and Pinecone Research is one of the best companies around. They pay $3 per completed survey via PayPal and occasionally will mail out products for panelists to test.
Pinecone is a pretty exclusive site, and it's not often that they open up their membership registration, so I'd recommend applying now if this sounds like something you'd be interested in!
Thanks, Deal Seeking Mom!