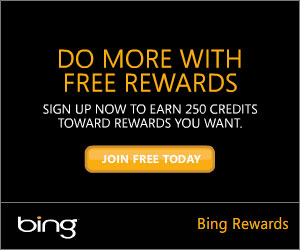 If you like searching to earn rewards, you'll love the new Bing Rewards program! You'll get rewarded with credits redeemable for prizes and gift cards just for using Bing to do your web searches.
To start earning your points, you'll have to download the Bing toolbar. Next, you'll need to register for a Bing account using your Windows Live ID. If you don't have one, get one here. You'll automatically be credited with 250 points once the registration process is complete.
Use the Bing toolbar to complete your searches and you'll earn points. Once you've earned enough credits, you can redeem them for gift cards, electronics, DVDs and more.
So what are you waiting for? Sign up for Bing Rewards today.