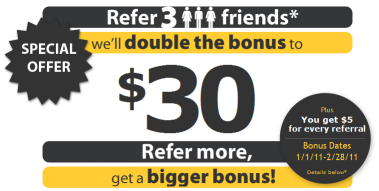 Wow! Ebates has a great referral program bonus right now…refer 30 people and you'll get $30! If you end up referring more friends, you can win other prizes:
Refer 20, get a Flip Ultra HD or $200
Refer 50, get an Apple iPad or $500
Refer 150, get a $1,500 shopping spree
Refer 250, get a dream vacation or $3,000
In order for the referral to count, your referral needs to make a $25 purchase through one of their participating stores. Ebates covers just about every store, so reaching $25 shouldn't be too hard. One $25 Old Navy, Target, Walmart, etc. purchase will make them eligible as your referral.
To refer your friends, first create an account with Ebates, then click on the 'Tell a Friend' tab. Copy your referral link found on the bottom of the page and email it, post it on Facebook or Twitter, etc.
Thanks, SwagGrabber!