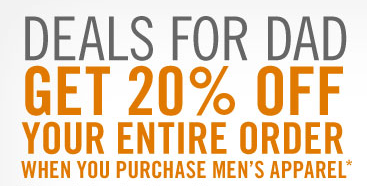 Still need to find something for dad? Check out Eddie Bauer's sale! Today only, you'll get 20% off your entire order of men's apparel. Just enter code DAD20 at checkout.
I'm not sure if you'll receive the items in time for Father's Day, but you don't see Eddie Bauer sales very often!
Don't forget to go through ShopAtHome first to earn 6% cash back!
Excludes footwear, outerwear, First Ascent and clearance items.