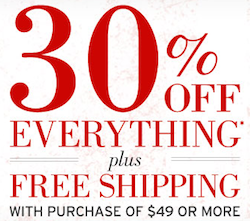 Eddie Bauer has a great Black Friday weekend sale! You can take 30% off your entire order with coupon code GOBBLE. Spend $49 or more, and you'll get FREE shipping as well! The coupon code is valid through Sunday, November 27th.
They will be having a better coupon code on Cyber Monday, though… stay tuned for more details!
Looking for more Eddie Bauer coupon codes? Check out my online coupon codes database!