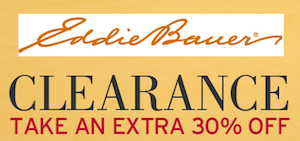 Eddie Bauer has some awesome clearance deals right now! Their clearance section is already up to 75% off, but when you add an item to your cart, you'll get an extra 30% off! There are some great deals to be had, so get shopping. 🙂
Shipping starts at $7.99, but if you spend $99, get FREE shipping with code FREE99. Let us know what deals you grab!
Thanks Southern Savers!