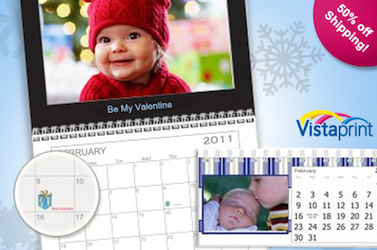 Eversave has one great deal today! They're offering up a wall, desk, wallet, or poster calendar from Vistaprint (which can be personalized) for only $1! New Eversave members will automatically get a $2 credit, so that will make it FREE!
You will still need to pay for shipping, but this Save will get you a 50% discount on shipping on any order!
Expires April 16, 2011. Coupon code available 1 day after purchase at 12pm EST. Limit 1 Save per person. Use one coupon code per purchase. Coupon code cannot be used toward shipping. Eversave members receive 50% off on all shipping costs. FREE shipping on all orders over $20. Enjoy 30% off all Vistaprint.com products with this Save.
Thanks, Hip2Save!