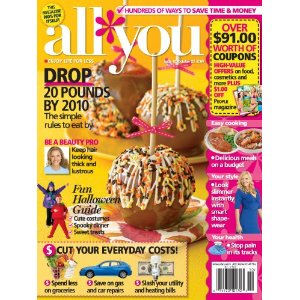 If you've been wanting to get a subscription to All You magazine, now's the time to buy it! Eversave.com is offering up $26 worth of magazine subscriptions from Blue Dolphin for $12. If you're new to Eversave, you'll receive a $5 credit that you can use towards this, making your final cost $7 for $26 worth of magazine subscriptions!
To get this deal:
Find any city that's offering the magazine deal.
Click on the 'Buy Now' button.
Enter your contact and billing info.
Eversave will email you a link for a voucher that has a unique 13-digit code. You can use this when you checkout at BlueDolphin-Magazines.com starting 2 days after your purchase.
A 1 year subscription to All You magazine costs $19.99 and your voucher is for $26, so you'll have $6 left to go towards another magazine subscription.
Voucher expires 9/30/11. Coupon code available 2 days after purchase at 12pm EST. You may buy up to 5 Saves for family, friends, gifts or repeat purchases. One coupon code per purchase. FREE shipping is included.
Thanks, Hip2Save!