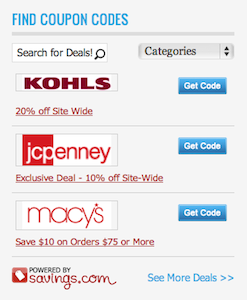 I am so excited to announce this great new feature on Frugal Finders!
Looking for a coupon for Old Navy, Gap, or almost any other store? You can find those codes without ever leaving Frugal Finders! The awesome people over at Savings.com have made it so easy to find those codes. You can either use the coupon codes page, or the Savings.com sidebar widget.
To find a deal, just type the name of the store in the search bar and hit enter. Or, choose one of the categories from the drop down menu. Once you find a deal you want, click on the 'Shop Now' or 'Get Code' button. You'll be redirected to the retailer's site, and if there's a coupon code required for the deal, it will automatically be copied to your clipboard! How cool is that?!
I hope you all enjoy this awesome feature as much as I do! Oh, and what other features would you like to see on Frugal Finders? Share your opinion in the comment section below.