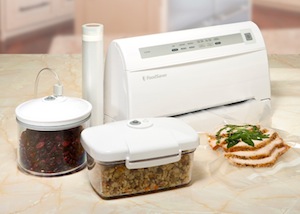 If you missed out on the previous FoodSaver deal I posted, you'll be happy to find out that there's another great deal available right now!
The FoodSaver V3440 Vacuum Sealer Starter Kit is currently on sale for $129.99, regularly $188.96.
Included in the starter kit:
FoodSaver V3440 Vacuum Sealer
1 – 11″ x 10′ FoodSaver® Roll
1½ Quart Rectangular Canister
1½ Quart Round Canister
Bag Tray Holder
Accessory Hose
However, you can use coupon code W2FE2BB at checkout to receive the following discounts and bonus items:
$30 off the FoodSaver V3440 Vacuum Sealer
2 FREE Rolls of Heat Seal Bags
FREE FoodSaver Handheld Vacuum Sealing System
FREE Box of FoodSaver Vacuum Zipper Gallon Bags
To enter the coupon code, click on the small "Edit" link near the Qualified Promotions heading. You'll also receive free standard shipping, making everything $99.99 shipped!!
Click Here to Get This Deal
Coupons procured by Savings.com
Thanks Southern Savers!