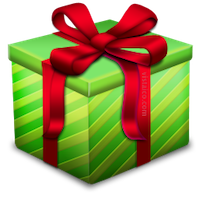 The following is a guest post from Nikki:
I love holidays, giving gifts, and I especially love to give things that are handmade. I'm no master craftsman, but I'd love to share some of my favorite craft ideas with you. Some of these ideas are really kid friendly too and make a great activity for a holiday party or just to enjoy some quality time with your family.
Ornaments
The sky is the limit on these! I like to pick up some inexpensive party supplies (pretty much anything you can find in the sale bin at your local craft store will do – even things that are broken!) and just go to town. What you'll need to do is get some clue. Craft glue works best and is an especially good idea if you're doing this with your kids, but hot glue works as well. You simply glue whatever you want onto pre-purchased ball ornaments. You can also custom-make ornaments if you get lucky enough at the store. It's simple, it's fun, and the sky is the limit on design.
Picture Frames
Pick up some inexpensive and plain frames from your local craft store. Then pick out whatever you'd like to decorate them with – anything that's cheap, office supplies, party supplies as mentioned above, old or broken holiday ornaments, anything goes. Then you use your craft glue (or hot glue) to attach all of that onto the frame you bought. The end result is really beautiful and custom.
Handmade Cards
This is the easiest and probably the most inexpensive idea on the list. All you need for this is a few blank cards and some images. You can print them out online, but I prefer to keep all cards from years past and other fun things for future use. Take a scissors to it and trim out what you want to use. Paste it to the card with a glue stick, write a custom greeting inside, and you're ready to give them out throughout the holidays.
Craft Store Inspiration
The last one is the most fun. Go to the craft store and see what's inexpensive and unfinished. That might mean little wooden figurines to paint. It might mean candle making materials. Just buy whatever's there and make it your own. Make sure you watch your money though – not everything will be inexpensive!
Nikki is an independent writer for DollarTree.com. Dollar Tree offers great deals on office supplies, party supplies and more.