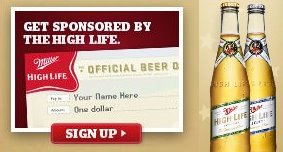 Currently, you can 'Get Sponsored by the High Life' and make yourself a FREE buck! Go here and enter your birth date (21 or older) and fill out the form to receive a $1 check.
You'll also be given the option to donate $1 to Iraq and Afghanistan Veterans of America, or you can get a coupon if your state laws allow.
Allow 4-6 weeks for delivery.
Thanks, Totally Target!