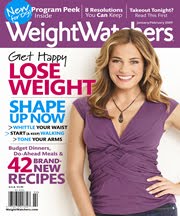 You can get a FREE 1 year subscription to Weight Watchers magazine yet again, and this time it's from a new source. This means that even if you requested this freebie previously, you can request it again! Why would you want 2 copies? Well, you can actually call the magazine's customer service line a few days after subscribing and they will be able to combine and extend the current subscription you already have, so you'll be able to tack on an additional year for FREE!
Interested?
Just click here and fill out your info. Allow 6-8 weeks for your first issue to arrive.
Thanks, It's Hip to Save!