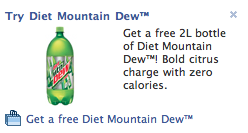 Fire up those web browsers and log into your Facebook account! I just noticed an offer for a FREE 2 liter bottle of Diet Mountain Dew Bold Citrus Charge in the sidebar, under "Sponsored"! I just had to click the link and give my mailing information.
At this point, I don't know if this will be offered to everyone or not. If it doesn't show up in your sidebar, refresh the page a few times and see if you get it.
I really hope this freebie comes…what's better than a FREE 2 liter of Mountain Dew?!
Let us know if you receive this offer too!