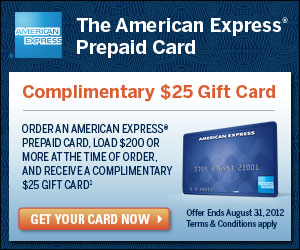 There's a great new offer available from American Express right now! Order an American Express prepaid card with at least $200 on it, and the purchaser will receive a FREE $25 gift card!
It's basically FREE money – so what are you waiting for? Click on the linked text below to grab your American Express prepaid card.
Order an American Express Prepaid Card, load $200 or more at the time of order, and receive a complimentary $25 gift card.
Offer ends August 31, 2012. Limit one offer per card. After qualifying for this offer, please allow 6 weeks for the $25 gift card to be mailed to the card purchaser.