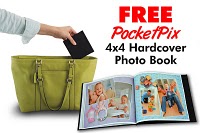 Starting tomorrow, May 18, you can get a FREE 4×4 Hardcover (Black Linen) 20 page Photo Book at RitzPix.com ($9.99 value)! Just use coupon code PROMO4X4 at checkout. Shipping is $1.99 per book. You can order up to 2 books.
I wanted to tell you in advance of this deal because it will only be available to order for 14 hours on Tuesday, May 18 (from 8am to 10pm ET). I recommend designing your book now so it's ready to order on Tuesday.
Go here and then click on the blue 'Create Photo Books' to get started. You can use between 30 and 68 photos for this 20-page photo book. This photo book is found under 'One Hour Photo Book', then '4×4″', 'Hard Cover', 'Linen', then 'Black'. Remember to click on the 'Save' button at the end so your design will be ready to order on Tuesday! If you are new to RitzPix.com, you'll also get an email immediately after registering with your coupon code for 25 FREE prints!
Thanks, SwagGrabber!