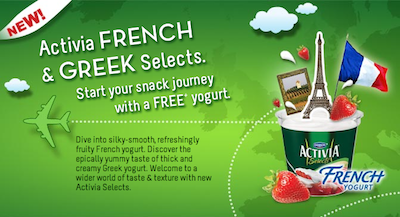 Wow! Currently, Dannon is offering you the chance to try two different kinds of their new yogurt absolutely FREE! You can request a coupon for a FREE cup of Activia French and Greek Selects, and also a coupon for a FREE cup of Dannon Oikos Greek Yogurt! If you have already requested these coupons via Facebook, you will not be able to get them again.
These coupons will be sent to you via email within 24 hours after filling out the form. Please note that some stores don't take printable coupons for FREE products. If you are unable to use a FREE product coupon at your store, contact Dannon and they will provide you with an alternate offer.
Promotion runs through 8/27/11 or while supplies last (up to 1,900,000). VOID IN CA, LA, NJ; an alternate offer is available in those states. One free coupon per household. Free coupon offer (up to $3.00) good until 09/11/11 for one 5.3-oz Dannon Oikos product. E-coupon redemption is at the discretion of each retailer/store. Please check your stores for their e-coupon acceptance policy. An alternate offer is available for consumers who cannot use free offer at retailer.