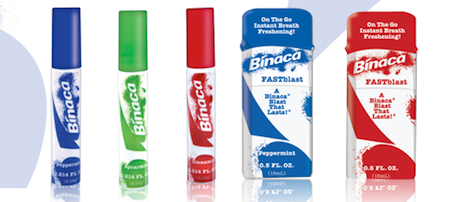 UPDATE: This offer is being put on hold until Monday. Here's what's on their site:
Hello Binaca Fans… Due to the hundreds of thousands of fans who have requested FREE Binaca, we are temporarily on PAUSE as we catch up on fulfilling our orders this weekend. We will be ON again on MONDAY to take more orders for FREE Binaca. Come back then and place YOUR order. Orders will be taken while supplies last.
Want a coupon for FREE Binaca Breath Spray? Go here and follow these 4 steps to get yours…
'Give FREE Binaca to your friends' by sharing on Facebook or Tweeting on Twitter.
Like Binaca on Facebook or Follow Binaca on Twitter.
Fill out the form with your name and address.
An email then will be sent to you and you will need to click on the link in the email. Clicking on the link will enable you to get the FREE coupon and will also sign you up to receive periodic emails from Binaca.
Thanks, Hip2Save!