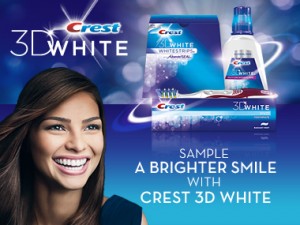 Click here and take a short survey regarding teeth whitening to possibly get a FREE Crest 3D White Smile sample kit! The sample kit contains Professional Effects Whitestrips, MultiCare Whitening Rinse, and Vivid Toothpaste.
This is what the fine print states:
By completing this survey, you may become eligible to receive a FREE Crest 3D Whitening Kit (the 'FREE sample'). You will also automatically opt in to receiving email communications from Crest and/or DailyCandy about the FREE sample, which may ask for your opinions of the product(s). You can opt out of receiving these email communications at any time by following the link in the emails. Supplies are limited, and receipt of the FREE sample is dependent upon the answers provided in the survey. No purchase is required to qualify for the FREE sample or participate in the survey. Participants must reside in one of the 50 United States to be eligible to receive the FREE sample.
Thanks, Hip2Save!