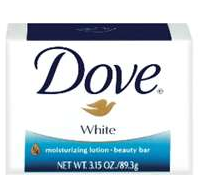 Take a photo of your current bar of soap and tweet it to @Dove on Twitter to get a FREE Dove Beauty Bar!
For those of you new to Twitter:
Follow Dove by clicking on the 'Follow' button on their profile page.
Send your tweet from the box under 'What's happening?' on the homepage. Type @Dove and then a short message (less than 140 characters) with a link to your photo. Use TwitPic to host your image.
Click 'Update' to send your tweet.
While you're there, be sure to follow Frugal Finders!
Thanks, Deal Seeking Mom!