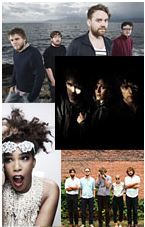 Starbucks has created a FREE music mix to complement your Frappuccino beverage! Featuring electrifying summertime favorites ranging from Frightened Rabbit to Hot Chip, your FREE Frappuccino Beverage Music Mix is available to download on iTunes!
The sampler includes…
Frightened Rabbit – 'Nothing Like You'
Hot Chip – 'One Life Stand'
Wintersleep – 'New Inheritors'
Goldfrapp – 'Rocket'
The Bamboos (featuring Kylie Auldist) – 'On The Sly'
Macy Gray – 'Kissed It'
Black Rebel Motorcycle Club – 'Bad Blood'
Yoav – 'Greed'
Shout Out Louds – 'Walls'
Wye Oak – 'My Creator
Thanks, SwagGrabber!