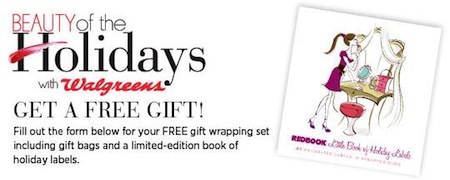 Buy one qualifying item at Walgreens and you'll get a FREE gift wrapping set courtesy of Redbook! Once you've purchased a qualifying item listed below, go here and enter your contact information and the RFN number from your receipt.
Qualifying Items:
Dove Promises
Garnier Ultra-Lift Anti-Wrinkle Firming Moisturizer SPF 15
Vaseline Intensive Rescue
Arm & Hammer Whitening Booster
Jergens Ultra Healing Extra Dry Skin Moisturizer
Arm & Hammer Advance White Toothpaste
Olay Regenerist Anti-Aging Eye Roller
Listerine Total Care Plus Whitening
Suave Naturals Body Lotion
Slimquick Ultra Fat Burner
Elizabeth Taylor White Diamonds Gift Set
Oscillococcinum Whitening Booster
Thanks, WildforWags!