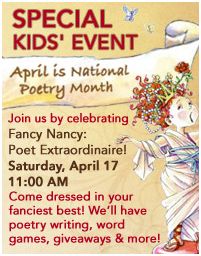 April is National Poetry Month and Borders will be having a special kids' event celebrating Fancy Nancy: Poet Extrodinaire. This event will take place on Saturday, April 17th at 11am.
Children are invited to come dressed in their 'fanciest best' and will be invited to participate in poetry writing, word games, giveaways and more with Fancy Nancy at your local participating Borders store on Saturday, April 17, 2010, from 11am. They will have poetry writing, giveaways, word games and more!
Thanks, Totally Target!