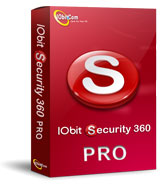 IObit Security 360 PRO is an advanced malware & spyware removal utility that detects, removes the deepest infections, and protects your PC from various of potential spyware, adware, trojans, keyloggers, bots, worms, and hijackers. With the unique "Dual-Core" engine and the heuristic malware detection, IObit Security 360 PRO detects the most complex and deepest spyware and malware in a very fast and efficient way. IObit Security 360 PRO has a real-time malware protection and frequent automatic updating for prevention of zero-day security threats. IObit Security 360 PRO can work with your Antivirus for a superior PC security.
You must provide a valid email address, as they will send the license key and download link to the email you provide.
You must register for this freebie by November 11.
Click here to register.