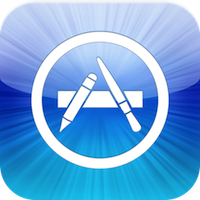 The following is a guest post from Ann:
It's funny, in writing this article I stopped to reflect on my own dad. He still has a flip-top cell phone. He tried upgrading to one of the "fancy schmancy T-Mobile cell phones," as he likes to call it, but within two hours he was nagging my mom to bring it back to Costco; which he did. My mom still has hers but that's another story as she still can't use it. It's particularly great when you ask her a question in text and she responds to you AND 19 other people whom now know your business. But that's another story.
While my dad may be old fashion and severely lacking, technically speaking, there are some cool free and low cost apps for those dads that are far savvier with their cell phones. They are listed below in no particular order but simply made the list for being super cool. Most are free, but if they have a price and are listed it's because we feel the small fee is totally worth the super cool app.
FanFinder – Perfectly suited for fans of the NFL, NBA, MLB, NHL, NCAA Football, and NCAA Basketball. Just select your favorite sports team, shake the app and bars catering to fellow-fans will be listed with location, directions and contact information.
Free. App is compatible with iPhone, iPad, and iPod touch.
Run Pee – There is nothing more frustrating than paying a small fortune to take your child, grandchild or niece/nephew to see a movie and they have to go "pee" every ten minutes. My son had to use the restroom 4 times during The Amazing Spiderman. This app is genius! It tells you when the best time to run pee is so you avoid missing an important part of the movie.
Free. App is compatible with iPhone and Android.
Weber's On the Grill – The app has more than 280 classic grill recipes including recipes for rubs, marinades, sauces and more. The user can store the necessary ingredients in an itemized shopping list which can be shared via email. Users can watch a short how-to video while preparing dinner. It also includes a timer along with time guides and 100 grilling techniques and more.
Cost $4.99. App is compatible with iPhone, iPad and Android.
Uncrate – The app is a gear guide for men full of stuff they never knew they wanted – from the hottest gadgets and cars to watches and much more. It has a "Scout" feature that lets you tell the Uncrate staff what they should be posting. Just tap the Scout button, snap a pic and include a short note and viola you can send it to the Uncrate staff.
Free. App is compatible with iPhone, iPad and iPod touch.
iHandy Level – Can't find the level to hang the new painting your wife just brought home or the super hero poster your son is excited about? Not to worry, download the iHandy level app and every picture will be hung straight.
Free. Compatible with iPhone, iPad and iPod touch.
Instapaper – Surfing the Internet when you see ten things you want to read but just don't have the time? This app lets you save the article until later when you do have time to read it. The best part is everything you save is available when you are offline. It also includes several other good features such as dictionary look-ups, search, dark mode and much more.
Cost $1.99. App is compatible with iPhone, iPad and Kindle; and Android.
Phone Aid – If your child was choking on a piece of hotdog or dad was choking on a piece of steak, would you remember what to do? This app is a must have for all dads (and moms too). It's a first aid guide that has step-by-step slideshows for emergency responses for infant and child CPR, choking and other hazardous situations such as allergies and more.
True story – A California basketball coach downloaded the Phone Aid app to brush up on his CPR skills. It was the very next day that one of his students collapsed and the coach was able to help revive him.
Free. App is available through iTunes and compatible iPhone, iPod touch and iPad.
Cozi Family Calendar and Lists – Turn dad's phone into a centralized calendar with using one account that every family member can access through their email address. Create chore lists, doctor appointment reminders, to-do-lists and more.
Free. App is compatible with iPhone, iPod Touch and iPad.
Tykoon – Dad is usually the one to hand out the extra dollars and allowance. This app specializes in just that – chores, allowance and money management to help teach kid's real-life money skills. Kids can donate, earn, save or spend while mom or dad keeps track.
Free. App is compatible with iPhone, iPod Touch & iPad.
Lastly, dad can earn some brownie points with MANsaver. The app reminds dad about important dates such as birthdays, anniversaries and other relationship milestones that men are known to forget and get in trouble for. This too makes me think of my own dad; he's been in the dog house a few times over the years for forgetting special dates. That's not to say women don't often forget too, because my memory is like that of a goldfish. The app also generates sappy text messages that can be sent just because!
Cost $0.99 and worth every penny if you're the forgetful type! App is compatible with iPhone, iPod Touch and iPad.
And that ends our list of Super Cool Apps for Dads this season that are free or low cost! Did we miss one? Let us know!
Ann Fleming is a freelance writer for andgeeks.com. She has a knack for clarifying the more complex side of technology and how to use it for the average person.