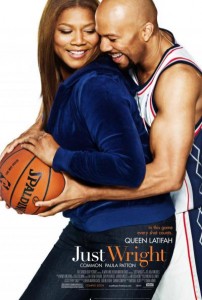 Fox Searchlight Pictures invites you to attend an advance screening of Just Wright. Passes for these special screenings are limited to a first come, first served basis. Go here to get your pass. The following are the cities offered :
Albany, NY. Atlanta, GA. Austin, TX. Baltimore, MD. Birmingham, AL. Buffalo, NY. Charlotte, NC. Chicago, IL. Cleveland, OH., Columbia, SC. Dallas, TX, Denver, CO. Fresno, CA. Glen Allen, VA. Houston, TX. Jacksonville, FL. Kansas City, MO. Knoxville, TN. Las Vegas, NV. Los Angeles, CA. Memphis, TN. Miami, FL. Milwaukee, WI. Minneapolis, MN. Montreal, QC. Nashville, TN. New Orleans, LA. Oklahoma City, OK. Orlando, FL. Philadelphia, PA. Phoenix, AZ. Pittsburgh, PA. Portland, OR. Raleigh, NC. Rochester, NY. Sacramento, CA. St. Louis, MO. San Antonio, TX. San Francisco, CA. San Jose, CA. Seattle, WA. Tampa, FL. Tulsa, OK. Washington, DC. West Palm Beach, FL. Norfolk, VA. In theatres everywhere May 14, 2010 . Go to the official Just Wright website to view a trailer.
Thanks, Mojo Savings!