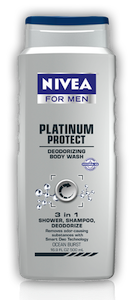 Right now, you can head over and request a free sample of Nivea for Men Platinum Protect Body Wash. This will be a 1.7 oz sample, and will arrive within 6-8 weeks.
This is a new product (to me, anyways), so hopefully the sample will come with some coupons! The drugstores have Nivea body wash on sale quite often, and when paired with a coupon and reward, it could make for some free or cheap body wash.
These samples are great for traveling!