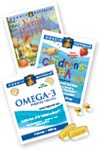 Click here to get a free Nordic Naturals Omega-3 sample kit! This kit will contain an assortment of single size serving samples and product literature. Just scroll down until you see the sample offer and then put a check mark in the samples box. Allow 2-4 weeks for delivery.
UPDATE: These samples are no longer available.
Thanks, Hip to Save!