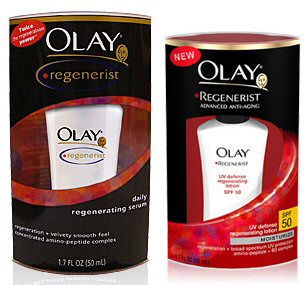 Wow! What a great deal at Amazon! Right now, you can get Olay Regenerist Products as low as FREE. Here is how to work this deal. All prices are with Subscribe and Save.
Step 1: You will want to subscribe and save, which is right under the price of the products, which will save you 15% right off the bat. (You can immediately cancel S&S after your order if you don't want to continue to receive the products. Just go to your account after you make the purchase and edit the subscription settings.)
Step 2: Click here and print out the rebate form to get $15 back when you purchase at least 2 of these products.
Step 3: This item ships FREE with Amazon Prime.
Here is a list of the deals. The prices shown are assuming you signed up for the 15% off. Keep in mind that Amazon prices are always in a state of flux, so it may be different by the time you see this. Hurry before these are all gone or the prices go up significantly!
Olay Regenerist Night Recovery Moisturizing Treatment, 1.7oz Jar: $15.29
Olay Regenerist Micro-Sculpting Cream, 1.7oz: $18.27
Olay Regenerist Daily Regenerating Serum, Concentrated Amino-Peptide Complex, Fragrance Free – 1.7oz: $14.53
Olay Regenerist Deep Hydration Regenerating Cream – 1.7oz: $13.50
Olay Regenerist Targeted Tone Enhancer, 1oz: $9.34
Olay Regenerist Series Touch of Foundation, UV Cream, 1.7oz Box: $3.99
Thanks, Mojo Savings!