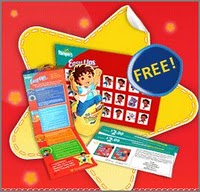 Did you request your FREE Pampers Potty training kit previously? It looks like it's available to request again! Go here to get a FREE Potty Training kit from Pampers! It comes with quite a few things:
A FREE sample of Easy Ups Trainers
High Value Coupons
Fun Stickers and coloring pages
Step-by-step Potty Training tips
Potty Progress Chart
*Dora or Diego Training Trophy
Expect delivery of your kit within 4-6 weeks.