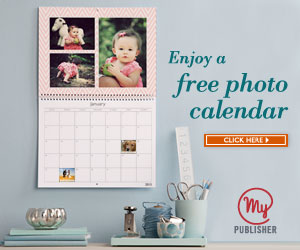 For a limited time, new MyPublisher customers can grab a FREE Photo Calendar ($21.99 value)! All you have to do is enter your email address to get your unique coupon code. You'll get the 8.5×11 size for free, or you can upgrade to the 10×13 size for just $8.
These would be such a great gift for friends or family! You can customize the photo calendar with your own photos (obviously), but you can add other text and artwork to showcase each month.
You will be left to pay shipping and handling, which should be around $5.99. That's an awesome price for a customized photo calendar like this! Note that you'll only have 7 days to use your unique coupon code.
Coupons procured by Savings.com