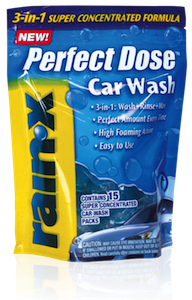 Here's a great new try me FREE rebate to help clean your cars! Print this rebate form to try Rain-X Perfect Dose Car Wash for FREE.
Purchase Rain-X Perfect Dose at Walmart, Advance Auto Parts, AutoZone, Pep Boys, or Target, and receive a rebate check by mail (up to $10.99). Purchases must be made between May 3rd and May 10th.
Limit one rebate per person, billing address, company, household and receipt/invoice during the promotion period. Requests must be postmarked by May 24, 2013 and received by June 7, 2013. Allow 6
weeks for mailing of your rebate.
Thanks Moms By Heart!