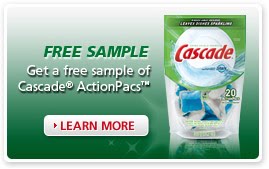 Go here to get a FREE 2 pack sample of Cascade ActionPacs!
Also, you can grab the following three Cascade coupons while you are there:
$0.50/1Cascade ActionPacs
$0.50/1 Cascade Actionpacs with Bleach
$0.50/1 Cascade Rinse Aid
This is a P&G Solutions freebie and you can only have one request per quarter. If you've already requested a FREE sample between January 1 and March 31, you won't be able to request another another sample until June 30th.