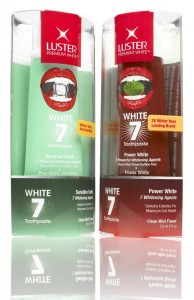 "Like" Luster Premium Whitening on Facebook to get a FREE sample of Luster White 7 Power White or sensitive teeth toothpaste! After "Liking" them, you should see a link to a survey on their wall. Take the survey and you'll be awarded with a FREE sample!
It does state this below the survey:
"Offer is good for one coupon redeemable at participating Walgreens, Rite Aid, Meijer, or Duane Reade stores nationwide. This coupon is good for up to $6.99 used towards the purchase of one tube of Luster White 7 Toothpaste of your choice."
At this point I'm not sure if we'll be getting a sample or a coupon for a FREE product! Hopefully it's for a FREE product!
Walgreens will also have Luster White 7 toothpaste FREE after Register Reward starting 5/30.
Thanks, Hip2Save!