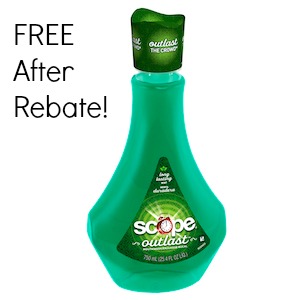 Here's a new mail-in rebate for you! Print this rebate form to get a bottle of Scope mouthwash for FREE (up to $4.49 value).
Qualifying Products:
Scope Outlast, 750 mL
Scope Mint, 1 L
To get yours, just purchase the product at any store and send in the form, UPC, and receipt. The price you paid will be put on a prepaid card, and should be delivered within 6-8 weeks.
Note that this rebate does exclude coupons. Make sure to do this in a separate transaction that doesn't have any coupons on it whatsoever.
Purchases must be made between 1/13/14 and 4/30/14. Your request must be postmarked by 5/30/14.
Limit one refund per name, household, or address. This offer cannot be combined with other offers, including coupons. Prepaid card expires 6 months from issuance. Please allow 6-8 weeks for delivery. For the status of your rebate go to http://www.pg.rebateresearch.com or call 855-814-5056.