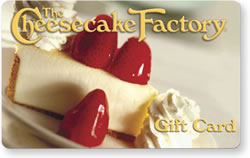 Yummy! Here is a great offer from one of my favorite restaurants. Through Christmas Day, the Cheesecake Factory is offering a FREE slice of cheesecake for every $25 gift card you purchase.
This promotion is valid on eGift Cards and traditional gift cards. The Slice of Joy cards will be mailed on 12/9 and 12/29, or emailed within 2-4 days. You know you want a FREE piece of cheesecake, so order a gift card now.
Thanks, Savings Lifestyle!