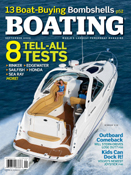 ValueMags.com is offering up a new FREE subscription! Currently, you can get a FREE 12 issue subscription to Boating magazine! This is a completely FREE offer – you will never receive a bill and there are no strings attached!
This is another FREE stocking stuffer idea!
Thanks, It's Hip to Save!