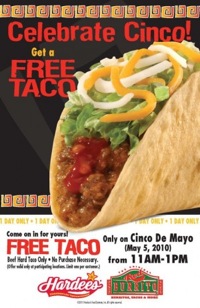 In honor of Cinco De Mayo, you can get a FREE taco at Hardee's/Red Burrito today?! Here's what was posted on their Facebook page:
Like tacos? Like free stuff? Live by a Hardee's/Red Burrito? Cool. Stop by for a free beef taco tomorrow to celebrate Cinco de Mayo. 11 am – 1 pm. Limit 1 per customer. Participating locations (U.S.)
I would probably call before making a special trip to confirm your local Hardee's/Red Burrito is participating.
Thanks, SwagGrabber!