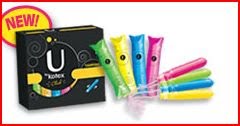 It looks like you can get another FREE Kotex Sample pack! I requested one for my mom previously and was able to request one again. Go here to get a FREE sample package of U by Kotex. Included in this package:
1 U by Kotex Cleanwear Regular Pad
1 U by Kotex Barely There Liner
1 U by Kotex Regular Tampon
Allow up to 10 weeks for delivery.