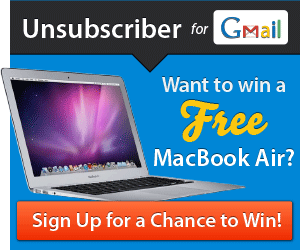 If you use Gmail or Google Apps and need to cut down on the junk email, you should give Unsubscriber for Gmail a try!
If you find that you're subscribed to an email list you don't want to be subscribed to, just move that email into the Unsubscribe folder, and they will click on the unsubscribe link for you and get you off that list.
In addition, when you install Unsubscriber for Gmail, you'll be entered for a chance to win a new MacBook Air! The winner will be announced on December 12th.
NOTE: Frugal Finders is NOT giving away the MacBook Air. Commenting on this post will not enter you for a chance to win. You must install Unsubscriber for Gmail in order to be entered.