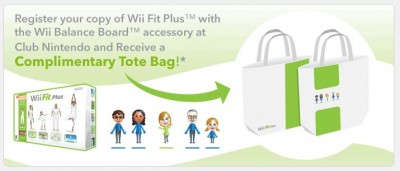 Club Nintendo is offering a FREE tote bag to those that have purchased Wii Fit and a Wii Balance Board (that's me)!
To get a tote bag, you must be a member of Club Nintendo. If you're not yet a member, you can join today – it's FREE and easy! Learn more and join at Club.Nintendo.com, then continue with these steps:
Log in to your Club Nintendo account.
Enter the PIN number found on the card inside the game packaging and complete the product registration survey that appears on the screen.
screen will appear asking you to accept the tote bag. Click on 'Send me my complimentary bag' and complete the order process.
Go here for more information.
Thanks, SwagGrabber!