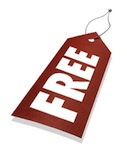 There are a ton of new freebies available today!
* FREE Emergen-C Starter Kit for Facebook Users
'Like' Emergen-C on Facebook, then 'Share the Good' (share this offer with any Facebook friends). They will mail up to 10 of your friend(s) a FREE Emergen-C Starter Kit with three Emergen-C vitamin drink mix packets!
* FREE Sample of Emergen-C Blue
* FREE Sample of Emergen-C Mixed Berry
* FREE 3-4 Serving Sample of Instant Black Chai Tea
* FREE NeilMed Neti Pot
'Like' NeilMed Neti Pot on Facebook to get a FREE NeilMed NasaFlo Neti Pot with two packets. Click on the 'FREE Neti Pot' tab and then click 'Chick here for FREE NeilMed Neti Pot". Fill out the information requested and your Neti Pot will be on its way!
**If you've already requested one, you can't request one again.
Click the 'Read More' button below to see more freebies.
* 10 FREE Issues of Saltwater Sportsman
* FREE 6 Month Weely Pasta Meal Planner
This is for California and Arizona residents only. The planner is filled with 25 easy-to-make meal ideas, recipes, and money-saving coupons!
* FREE Samples of Redken Time Reset Hair Care
Allow this Redken application access to your profile on Facebook and take the "Did Your Hair Survive the 80's" quiz to get a FREE sample of 'Time Reset' shampoo, conditioner and youth revitalizer.
* FREE Sample of Lanacane Anti Chafing Gel
Fill out the short survey on the page linked above to get your FREE sample.
* FREE Sample of Nature's Bounty Your Life Multi Adult Gummies
* FREE Sample of Deluxe Benefit's Crescent Row Fragrance
Redeem this coupon at the Sephora counter at your local JCPenney.
* FREE Sample Pack of OB Tampons
This is a new link, so if you've already requested this freebie, you should be able to request it again.
* FREE Sample of Earth's Best Organic Infant Formula
Allow 4-6 weeks for delivery.
Thanks, Hip2Save!